Posted On : October 24, 2019
The Top 5 Investor Suburbs in Brisbane
As we head into the pointy end of the year, you might be starting to think about your goals and resolutions for the 'roaring 20s'. If investing in property is a top priority for the new year, here are our five best, turnkey Brisbane suburbs that sure deliver a good return on investment (ROI).
According to the chief economist at realestate.com.au Nerida Conisbee, Brisbane had remained strong despite the property slump over the past two years.
"While prices in Sydney and Melbourne have tumbled over the past two years, pricing in Brisbane has been remarkably stable," she says.
"This is despite a lot of concerns about apartment oversupply, which have turned out to be vastly overstated."
Conisbee also notes that rental properties in Brisbane are receiving ongoing interest and are seeing some of the highest views per listing for rental properties in Australia.
The principal of Universal Buyers Agents, Darren Piper, sees this growing interest as the 'prime time' to invest in property and believes that these five suburbs will not only offer investors vibrant suburban living, but the attractive ROI's is the key reason to put these areas on the map.
New Farm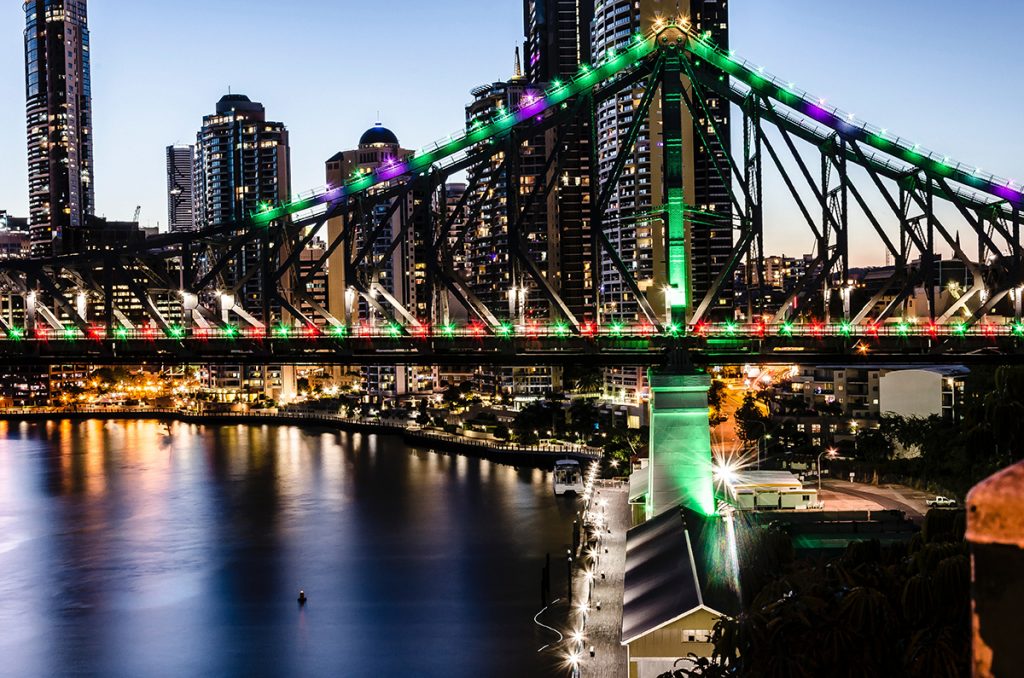 Located just 3km from the CBD, New Farm is one of Brisbane's most exclusive inner-city suburbs and is known for its tree-lined streets, elaborate raised Queenslander homes and its gourmet cafés, restaurants and retail shops at every turn.
With its uninterrupted views of the city and waterfront access to the Brisbane River, New Farm is an entertainer's dream. The average house price for New Farm currently sits at $1.55m, which has admirably increased by 70% over the past 10 years.
Bulimba
Offering leafy green, riverside living, Bulimba is an impressive suburb with a median house price of $1,315,000 which like New Farm, has increased by 70% in the past 10 years.
Bulimba provides a balance of city and village-like living with its chic cafés, award-winning restaurants and its distinctive fashion and homeware boutiques. Bulimba's buzzing scene continues to be in high demand and successfully reaches 436 visits per listing per month on realestate.com.au.
Auchenflower
Just 4km from Brisbane's CBD and within walking distance of Suncorp Stadium, the fashionable suburb of Auchenflower holds an average house price of $1,275,000 and has seen a 70% growth in the last 10 years.
Auchenflower is renowned for its lavish Queenslanders poised on narrow streets and is home to some of Brisbane's best restaurants, bars, and the charming McIlwraith Croquet Club.
According to realestate.com.au, houses in Auchenflower rent out at a median of $525 per week with an annual rental yield of 2.1% and units rent for $385 per week with a rental yield of 4.5%.
Camp Hill
Approximately 8km from Brisbane's CBD, the median Camp Hill house price is $900,000 and has seen a 60% growth over the last 10 years.
There's something to suit everyone in Camp Hill as it offers a unique mix of design. From Queenslanders to cottages, and arts and craft homes through to post-war houses, the architecture in this suburb is sure to please.
Amongst its suburban streets, Camp Hill is home to numerous antique stores, local café and Whites Hill Reserve.
Wishart
Approximately 14km south of Brisbane's CBD, Wishart's average house price stands at $725,500 and $392,000 for units.
Home to the second-best school in Brisbane, Wishart has seen a 65% increase over the last 10 years.
The median rental price for a house in Wishart is $475 per week with an annual rental yield of 3.4% and units rent out for $410 per week with a rental yield of 5.4%.
From parks to coffee nooks, to plant nurseries and community parks, Wishart has something to offer everyone.
Information based on the original article: https://www.realestate.com.au/news/5-best-investor-suburbs-of-brisbane/