Posted On : February 20, 2018
Liz and Andrew's story
There is a somewhat disheartening side to purchasing property that is seldom discussed.
It doesn't happen overnight, and it doesn't always happen as soon as the process has begun.
For some, purchasing a home can take months and, in some cases, years.
After more than a year searching for their first home with no success, a young Brisbane couple was close to giving up hope.
Andrew Shaw and Liz Webb were on the hunt for their dream home – a "typical Queenslander" with character, a nice kitchen and an entertaining area.
"We are a couple in our 20s, getting towards the big 3-0 and we have been talking about getting into the property market for the last couple of years," Andrew and Liz said.
"We've been together for the past seven years and have been living together for three years, so rather than spending money on rent we wanted to put our money towards a place we can own and make a home for ourselves and start to set ourselves up for the future."
The search didn't go as smoothly as they expected, with 12 months of scrolling through listings online, and six months of unsuccessful auctions and offers under their belt.
"We would see a property listed online and would be at the open home that weekend," the couple said.
"We started seeing the same couples every weekend, so we knew the competition would be tough.
"When we got serious and started placing offers on houses, we'd find ourselves in a situation where multiple offers were on the table.
"We'd be going in fairly blind with our offers, and we had no idea where we stood.
"We also found ourselves at auctions where the bidding crept over what we thought was value."
Andrew and Liz soon realised they needed a competitive advantage if they ever wanted to find their ideal home.
Scrolling through LinkedIn, Andrew came across Universal Buyers Agents director Darren Piper.
"After signing up to his mailing list, I received a phone call from Darren and we spoke about the search we had been on for a property," Andrew said.
"At the time Liz and I were about to put an offer on a property in Gordan Park.
"The place was going to be sold prior to auction, so we found ourselves in a multiple-offer situation again.
"Darren was happy to give me advice on the process and his thoughts on the value of the property, however again we missed out as we were outbid by another party.
"From that conversation, Liz and I decided to hire Darren due to how willing he was to give us the advice, and the fact he said he could locate these properties off-market so we had a chance to go for them without as much competition."
And the rest, as they say, is history.
Within two weeks of hiring Darren, Liz and Andrew had signed a contract to move into their new home – a beautiful Queenslander in a great area, with a pool as well.
"It was a massive relief to have found a property so quickly, and we were amazed to have had a shot at buying our ideal property before it was even listed online," the couple said.
"To be honest it was pretty surreal how quickly we were able to secure this property – we had a contract signed within 48 hours of Darren finding the property through his network.
"Darren was fantastic, even before we hired him he was open to giving us advice and information and he never put any pressure on us to sign up with him.
"From the very start he knew exactly what we wanted and was confident he could find the right property for us."
Andrew and Liz said they were "consumed" with the real estate market and spent all their spare time scrolling through hundreds and thousands of online property listings.
Darren did the groundwork for us and could cut our list down to a more targeted number of properties that ticked the boxes," they said.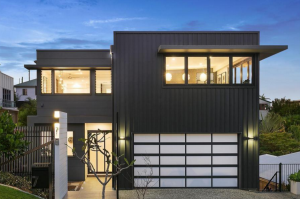 "When we got Darren on board, we actually got time back."
Liz and Andrew said not only did Darren save them time; he also gave them honest insight into the market.
"One of the many benefits of having Darren working with us, was we actually had insight on what was fair value from an expert in the field, and he kept us accountable to make sure we weren't overpaying," they said.
"Darren wasn't just thinking about what we wanted short-term, he helped set us up for success in the long run as well, regarding property values and growth opportunity.
"He could have just let us buy the first property we saw, but he wanted us to find the best property in our price bracket."
Darren said using a buyers agent gives the buyer a competitive edge in a very fast-paced industry.
"Using a buyers agent
will ensure the buyer is exposed to every single opportunity both on and off market," Darren said.
"When most people only transact six times in their life, you would
be silly not to safeguard this investment/purchase by using a professional."
Purchasing a property is an overwhelming experience for first homebuyers, who are often taken advantage of by real estate agents.
"There is a big misconception that the selling agent is there to help
the buyer – this is not the case," Darren said.
"The selling agent is paid by the seller to get the highest price whereas a buyers agent is there to ensure the buyer buys the right property at the right price.
"Our aim is to level the
playing field and challenge the status quo when it comes to buying property."
Darren said first home buyersalso tend to get emotionally invested throughout the process, which can seriously cost a buyer in the long-term.
"Emotional situations can cause you to make bad financial decisions," he says.
"Buyers agents are here to guide the buyer and keep a logical mindset and keep the emotion out of the transaction, therefore buying at the lowest price."
Once a buyer starts making decisions with their hearts instead of their heads, that's when they pay too much for a property and overlook important issues.
Pointing to Andrew and Liz as an example, Darren said no dream home is too out of reach or difficult to find.
With an extensive knowledge of the property market, as well as connections in the industry, which allow access to not-yet-advertised properties, buyers agents can find a property that ticks all the boxes – regardless of how many there are.
To ensure you buy the right property at the right price give our team a call now on 1300 117 561